Köpa Katt av oss:
To buy a cat of us:
En katt av oss kostar : 11.000
Tingnings avgiften är 2000:-

Reserverad=någon har visat intresse för kattungen, men andra förfrågningar är välkomna

Utv.=Stannar ev. kan bli ledig igen

Tingad= handpenning är erlagd


Vid försäljning är kattungarna:
* Mellan 12-14 veckor

* Chipmärkt

* Veterinärbesiktigade

* Registrerade i Sverak(stamtavla)

* Vaccinerade

* Avmaskade vid behov

* Doldafelförsäkrade i Sveland

* Mentorskap under kattens levnadsår.

(måste dock ha en egen veterinärvårds försäkring som fixas innan eller i samband med hämtning av kattungen)


A cat of us will cost 11.000kr
Ting fee is 2000 :-

Reserved = someone has shown interest in the kitten , but other inquiries are welcome

Ext. = Maybe Stays in the cattery, but may become vacant again

Booked = down payment is paid


When selling the kittens :

* Between 12-14 weeks

* Chipped

* Vet * Registered in SVERAK ( pedigree )

* Vaccinated

* Dewormed only if they have

* Doldafelförsäkrade in Sveland ( must have its own veterinary -care insurance as fixed before or upon collection of the kitten )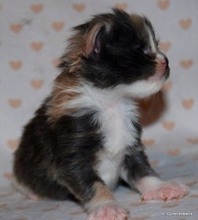 Vi säljer både till avel och till sällskap. Till avel väljer vi ut de kattungar som är mest lämpliga. Vi säljer endast katt till avel till registrerade uppfödare. Vi vill gärna träffa de blivande köparna en gång innan försäljning för att få en bättre kontakt och då får köparen träffa kattungarna innan de bestämt sig.


We sell both for breeding and to the company. For breeding we pick out the kittens that are most appropriate . We only sell cats for breeding of registered breeders . We 'd love to meet the prospective buyers once before sale in order to get a better contact and then get the buyer to meet the kittens before they decided .